MAPIC India accords MR D.I.Y. 'Most Admired Emerging Retail Brand of the Year' award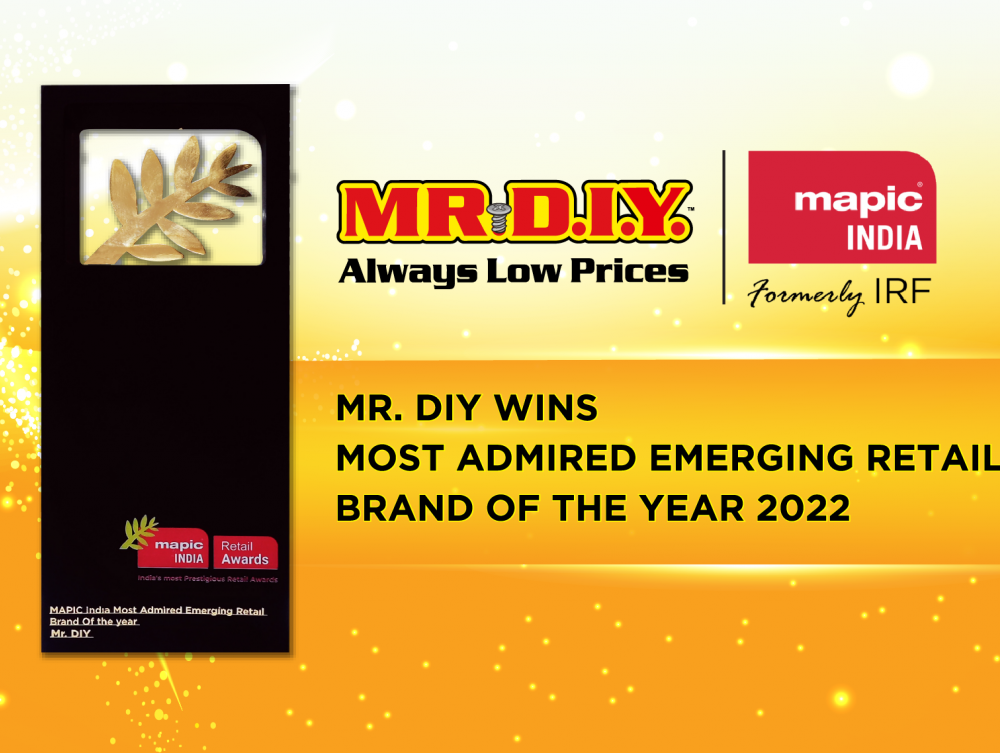 MUMBAI, 15 SEPTEMBER 2022 - It's been a good month for MR D.I.Y.! The retailer has been named MAPIC India's 'Most Admired Emerging Retail Brand of the Year' at an award ceremony held in JIO World Convention Centre recently.
MAPIC India, formerly India Retail Forum (IRF), is India's premier annual event where more than 200 global speakers and 750 retailers network, connect, and learn about the #FutureOfRetail. The award recognizes and honours outstanding achievements and excellence in every major format and category of modern retail in India. MAPIC takes a meticulous and stringent approach when selecting the nominees in each award category, making a detailed evaluation across various business aspects. The organisation's Retail Brand of the Year award is its top honor which is well recognized in the retail industry.
Commenting on the recognition, MR D.I.Y. India Chief Executive Office, Mr. Maneesh Sharma, said, "We are proud to be accorded this award by MAPIC India, as 'Most Admired Emerging Retail Brand of the Year' for the first time. This is indeed great recognition of the work that we do every day, and it also demonstrates that MR D.I.Y. continues to stay relevant to the people of India. We wouldn't have been able to achieve this award without the passion, commitment, and loyalty of our employees nationwide, as well as the trust and confidence of our business partners, suppliers, and friends. I dedicate this award to them with my utmost thanks."
Sharma said while the retail and business operating environment continued to be challenging, the retailer remained focused on its promise of bringing everyday essentials to the people at convenient locations, at 'Always Low Prices'.
"We opened our first store in India in 2019, and today we have more than 70 stores nationwide. And I'm thrilled to share that we are on track to open 100 new stores this year, as part of our mission to deliver our promise of 'Always Low Prices' to all our customers, and to serve the communities so that we positively impact lives", said Sharma.
MR D.I.Y. has commandeered numerous major accolades over its 17-year history, including being inducted into the FTSE4Good Index. Founded in 2005, this retail brand from Malaysia, has also been recognised as Brand of the Year for four consecutive years in the World Branding Awards, as well as Deloitte Private's "Malaysia's Best Managed Companies" and Frost & Sullivan's "Company of the Year in the Malaysia Home Improvement Retail Industry," both for the second year running,
For more information about MR D.I.Y., visit www.mrdiy.co.in,
Facebook
, and
Instagram
.