MR.DIY Accorded Brand of the Year Regional Award at the World Branding Awards 2021-2022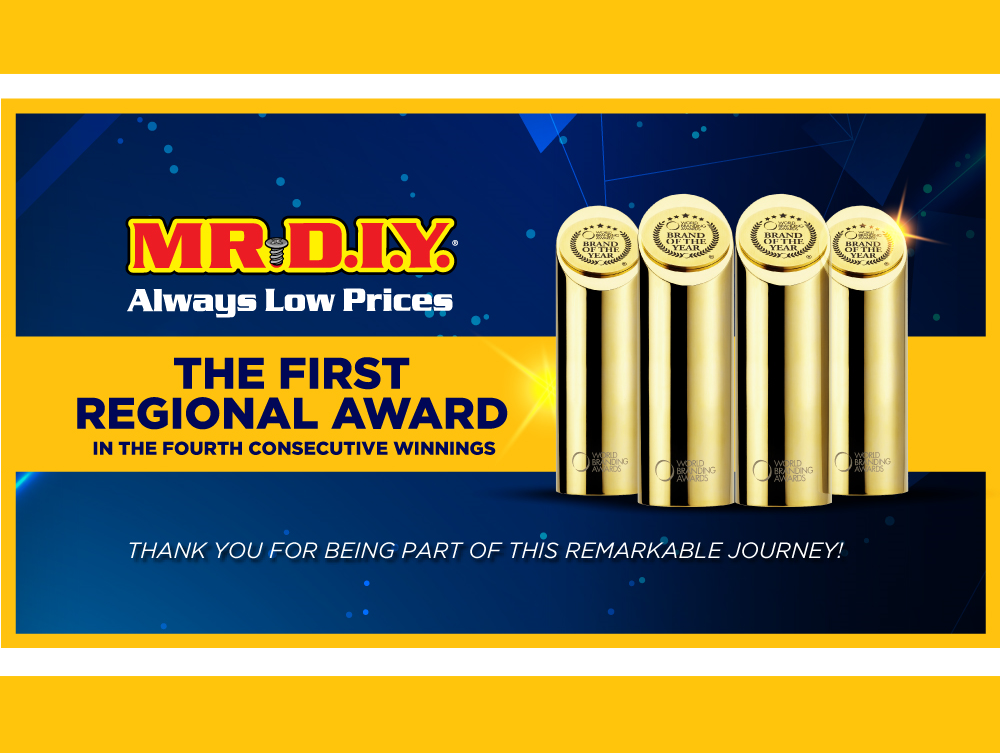 MR.DIY ACCORDED BRAND OF THE YEAR REGIONAL AWARD AT THE WORLD BRANDING AWARDS 2021-2022
KUALA LUMPUR, 30 November 2021 — MR.DIY today announced that it had been accorded the Brand of the Year Regional Award at the World Branding Awards 2021-2022. The Awards see some of the world's best brands recognised for their work and achievements, based on brand valuation, as well as through consumer market research and public online voting.
For the past three years, MR.DIY has received the National Award, which is presented to the leading brands in each participating country. These are brands that are household names in their home country that have been judged to be truly exceptional.
This year, for the very first time, MR.DIY has moved up to the Regional Award, which is presented to brands which are top in several countries in a particular geographic region.
Dedicating the award to the Group's employees across its 6 regional markets - Malaysia, Thailand, Indonesia, Philippines, Singapore, and Brunei - MR.DIY Group Vice President of Marketing, Mr. Andy Chin said, "This award is in recognition of the work that our MR.DIY employees do every day. It is a testament to their commitment; they persevered despite the challenges of the COVID-19 pandemic. Moving up to become a regionally-recognised brand also demonstrates that we are well on the way to becoming the leading value retailer across ASEAN."
Chin said that the award was also a reflection of the loyalty of MR.DIY's customers, who have supported the brand since its first store opened in Kuala Lumpur in 2005.
"This award underlines how much our customers value our commitment to deliver on our promise of convenience, value, and "Always Low Prices"," he said. "Our aim going forward is to stay the course - to keep delivering on our promise in new, innovative ways. Exploring new store formats that will allow us to take MR.DIY to new communities in different types of markets will be a key priority," added Chin.
He added that the Group was increasing its focus on Environmental, Social, and Corporate Government (ESG), through a breadth of initiatives that protect people and the planet. Since 2020, he said, the Group had activated more than 50 programmes across the region to support the communities affected by the pandemic, including sourcing personal protective equipment (PPEs) and necessities directly from manufacturers, to giving out care packs, and providing hospitals with much-needed medical/non-medical equipment.
The World Branding Awards is an annual award ceremony organised by the World Branding Forum, a global non-profit organisation dedicated to advancing branding principles for the benefit of customers and the branding community. The Award sees some of the world's best brands recognised for their work and achievements. Now in its 13th edition, the 2021-2022 award programme saw 150 brands from 41 countries named "Brand of the Year". This year's ceremony was held virtually at Kensington Palace, United Kingdom on 25 November.
For more information on MR.DIY, visit its website, www.mrdiy.co.in, and social media, Facebook, and Instagram.