MR.DIY Makes Deloitte Malaysia's "Best Managed Companies" List For 2nd Year Running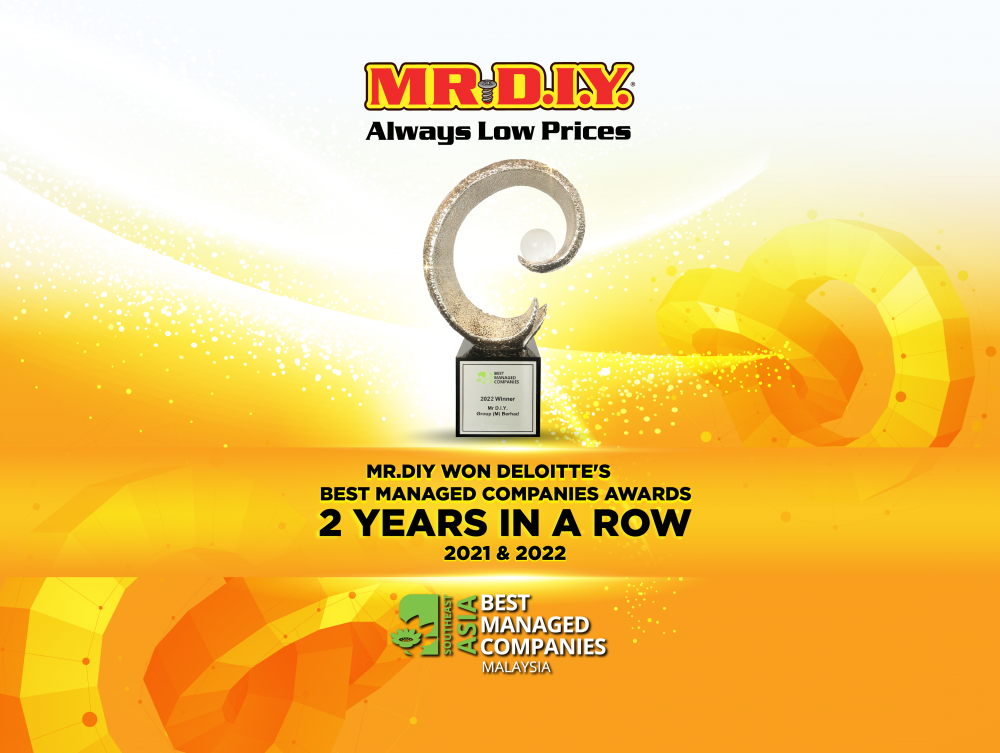 KUALA LUMPUR, 7 SEPTEMBER 2022
– MR D.I.Y. Group (M) Berhad ("MR.DIY") has once again been named one of "Malaysia's Best Managed Companies" by Deloitte Malaysia, a global provider of consulting and financial advisory services.
Deloitte's "Malaysia's Best Managed Companies" award programme recognises privately held companies with annual revenues exceeding US$25 million (RM104.81 million) for their organisational excellence, as well as contributions to their respective industries and the economy. The programme provides a distinct framework for management teams to challenge themselves and benchmark against some of the best private companies in the world.


Commenting on the award, MR D.I.Y. Group Chief Executive Officer, Adrian Ong said, "We are truly honoured to be recognised by Deloitte as one of Malaysia's best managed companies, not once but twice. The recent years have been challenging, but we remain steadfast in our promise of delivering "Always Low Prices". This has not been easy as the global economic environment is somewhat turbulent; we have had to be agile and responsive.


"Last month, we celebrated the opening of our 1,000th store. We have come a long way since we opened our first store in 2005. Our 13,000-strong team remains committed to creating innovative retail experiences that capture the imagination of Malaysians, delivering outstanding value, and serving our communities to positively impact lives. This award represents the passion, commitment, and loyalty of our employees and business partners, and I am very pleased to dedicate this award to them," Ong added.


Ong went on to thank Deloitte for bringing the award to Malaysia, saying it would further inspire Malaysian brands to strive to global standards.


Deloitte's Best Managed Companies Award programme involves a rigourous evaluation of participating companies, reviewing business strategy, capabilities and innovation, culture and commitment, as well as governance and financials. The award evaluation process is based on more than 29 years of observed practice in 50 countries worldwide.


An independent judging panel comprising representatives from industry and academia determine the winners based on the leading practices of Best Managed Companies. This year's jury members are Professor Datuk Dr. Asma Ismail, Ibn Sina Chair for Medicine, International Islamic University Malaysia; Datuk Seri Dr. Michael Yam, Chairman, InvestKL Corporation; and Datuk Muhamad Umar Swift, Chief Executive Officer, Bursa Malaysia Bhd.


The Deloitte award comes closely after MR D.I.Y Group was named the Frost & Sullivan's 2022 Company of the Year in the Malaysia Home Improvement Retail Industry for the second time. In 2020, MR.DIY was awarded the Market Leadership Award, and in 2021, for the very first time, it received the Company of the Year Award.