Three In A Row – MR.DIY Wins Its Third World Branding Award!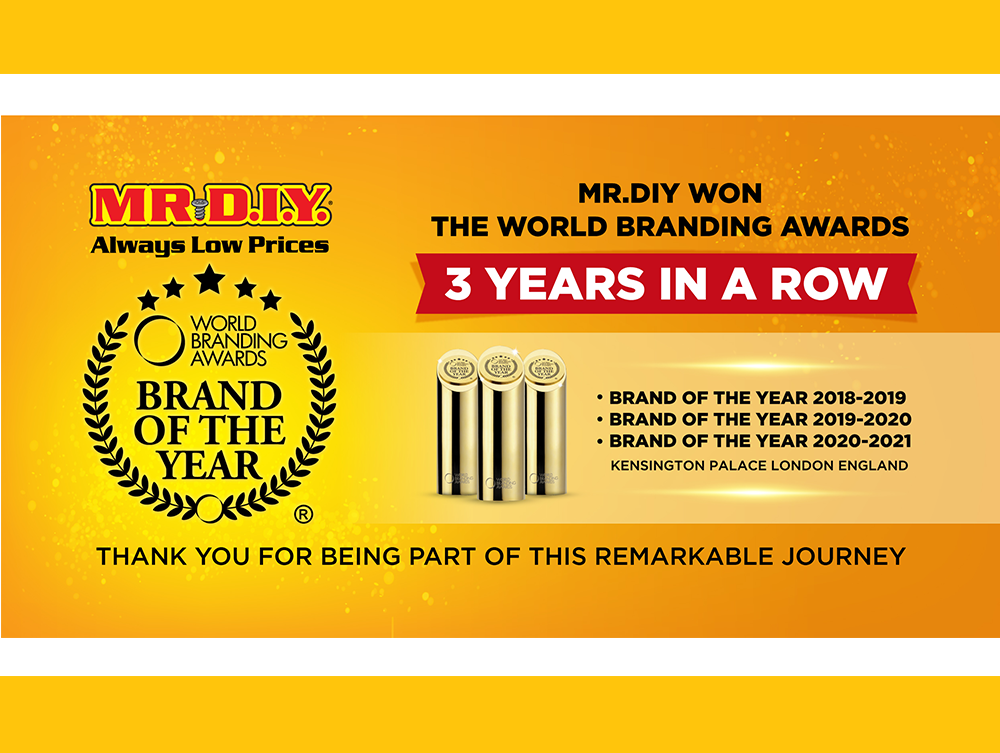 Three In A Row – MR D.I.Y. Wins Its Third World Branding Award!

KUALA LUMPUR, 22 December 2020 — Homegrown retailer MR D.I.Y. Group (M) Berhad has done it again, emerging a winner at this year's World Branding Awards! Winning the coveted national tier Brand of the Year in Retail – Home Improvement Category 2020-2021, this marks the first time a home improvement retailer has won this distinguished award for three consecutive years.
"What a way to end the year with such amazing news!" said MR D.I.Y. Group Vice President of Marketing, Mr. Andy Chin. "2020 has been a challenging yet rewarding year for all of us at MR.DIY, we feel incredibly fortunate to win this prestigious award for the third time in a row. This year's win is a testament to our employees' unwavering commitment, hard work, and dedication towards our vision of becoming the market leader in the home improvement retail industry."
Fresh from its inclusion in the Kuala Lumpur Composite Index, the Group plans to add approximately 300 MR.DIY, MR. TOY, and MR. DOLLAR stores nationwide in the next two years. While other organizations were slashing jobs during the peak of the Covid-19 pandemic, MR.DIY held a recruitment campaign in June this year, offering 1,000 positions to fresh graduates, retrenched workers, people with disabilities, and the unemployed older generation. The Group has also been instrumental in supporting the national Covid-19 efforts through their ongoing "STAY SAFE, MALAYSIA!" CSR initiative, having donated approximately RM1.1 million worth of protective gear to frontliners and communities throughout our nation and further demonstrating its commitment to serve the rakyat better.
"Following the public online voting conducted by the World Branding Forum, winning this award is also proof of the public's trust towards MR.DIY as their preferred brand of choice. We cannot thank you, our customers, enough. These are trying times where many households are concerned about their finances, I want to take this opportunity to tell everyone that MR.DIY is here for you. As a Malaysian brand for Malaysians, we are committed to continuously bring more value and convenience to our customers nationwide, in line with our motto of 'Always Low Prices'" added Chin.
The World Branding Awards is an annual black-tie ceremony organized by the World Branding Forum, a global non-profit organization dedicated to advance branding principles for the benefit of customers and the branding community. The Awards honor and celebrate some of the best global and national brands for their work and accomplishments. Three streams judge the nominees, namely Brand Valuation, Consumer Market Research, and Public Online Voting.
This year's awards ceremony will be held at Kensington Palace, the United Kingdom on 11th March 2021. With previous ceremonies taking place in Vienna, New York, and Paris, this will be the eleventh Awards hosted by the World Branding Forum.